IGERT
The centerpiece of ERIE academic programs is the new doctoral curriculum funded by the National Science Foundation's Integrative Graduate Education and Research Traineeship (IGERT) program (U.S. citizen and permanent resident). ERIE's IGERT trainees pursue a doctoral degree from one of seven existing programs, with the following additional requirements and opportunities:
All ERIE trainees take three new integrative courses in ecosystem restoration: Perspectives on Ecosystem Restoration, Practices in Ecosystem Restoration, and Ecosystem Restoration Practicum. Team-taught by faculty from the participating academic programs, these courses address interdisciplinary perspectives and practices of modern ecosystem restoration (also available to non-IGERT graduate students).
In the summer following their first year of study, ERIE trainees complete a series of summer professional training courses in ecosystem field methods and Case Study teaching methods.
During the second year of study, ERIE trainees complete an internship with one of over 10 participating US government, nongovernmental, or Tribal environmental organizations .
ERIE trainees conduct doctoral research under the guidance of an interdisciplinary faculty team, with numerous opportunities to link their dissertations with ongoing restoration projects.
Each ERIE trainee will participate in K-16 educational outreach, typically by assisting with science classes at one of two Buffalo Native American magnet schools during one of the academic semesters. Trainees may also participate in the Buffalo Science Museum's Authentic Learning Communities program, or activity sponsored by the Great Lakes Centers for Ocean Science Education Excellence (COSEE).
ERIE trainees participate as a group in weekly colloquia and annual research symposia.
ERIE trainees receive an annual stipend of $30,000 for a minimum of two years, plus tuition and an educational allowance. Support beyond the two-year traineeship period is provided in the form of teaching and research assistantships through the individual academic departments, supplemented by ERIE "top off" funding.
Applications are not being accepted at this time.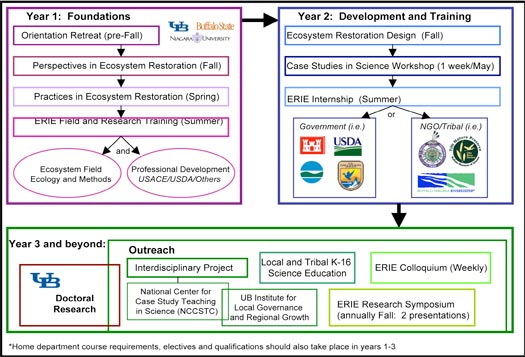 Schematic of ERIE-IGERT doctoral program
For more information on the National Science Foundation's IGERT program, please see the general IGERT website.